BirdWeb: Seattle Audubon's Guide to the Birds of Washington State
Bird of the Week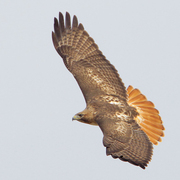 Red-tailed Hawks breed throughout Washington State and are joined for the winter by other individuals from more northerly breeding territories. Look for them atop trees and light posts, scanning the ground for small mammals. Listen to the call of the Red-tailed Hawk. You may recognize it as one of the most widely - and inaccurately - used bird calls in Hollywood!
Birding Site of the Week
Framed by Semiahmoo Spit to the west and Blaine to the east (and the Canadian border to the north), Drayton Harbor is one of the premier coastal birding sites in Washington. The variety of waterbirds in winter can be staggering, including three species of loons, all three scoter species, and Harlequin, Long-tailed, and Ruddy Ducks. The area also attracts larger wintering flocks of gulls and sandpipers, as well as some alcids.
Get Involved with SAS
Seattle Audubon has numerous resources available to you.